Happy Habits
How To Turn Self Love & Creativity Into Daily Routines
Do you hear about all these great things people do and wish you had time for them, but feel like it's just never going to be possible?
Do you wish you could work on your personal development, especially when it comes to making time for yourself and expressing yourself, but you never seem to be able to follow through in a consistent way?
Maybe you're able to do it a couple days in a row but then after a while you're right back where you were? Frustrated, wishing things were magically different?
Habits aren't magically dug into place; they do take dedication, time, and energy. The good news is they definitely aren't as hard we've decided to make them all our lives! There's so many ways for you to institute a daily routine in your life that will begin to foster positivity, health, self-care, creativity, and overall happiness and we want to show you how to make that happen.
Marielle and I are so excited to join forces and bring you this masterclass about self-love and creativity into daily routines. After all, in order to allow something to truly affect your life, you have to practice it regularly! So let us help you figure out the best ways to make sure self-love and creativity are parts of your daily life.
This is a recording of a live training we offered, which includes a Q&A session answering your real questions about the topics at hand!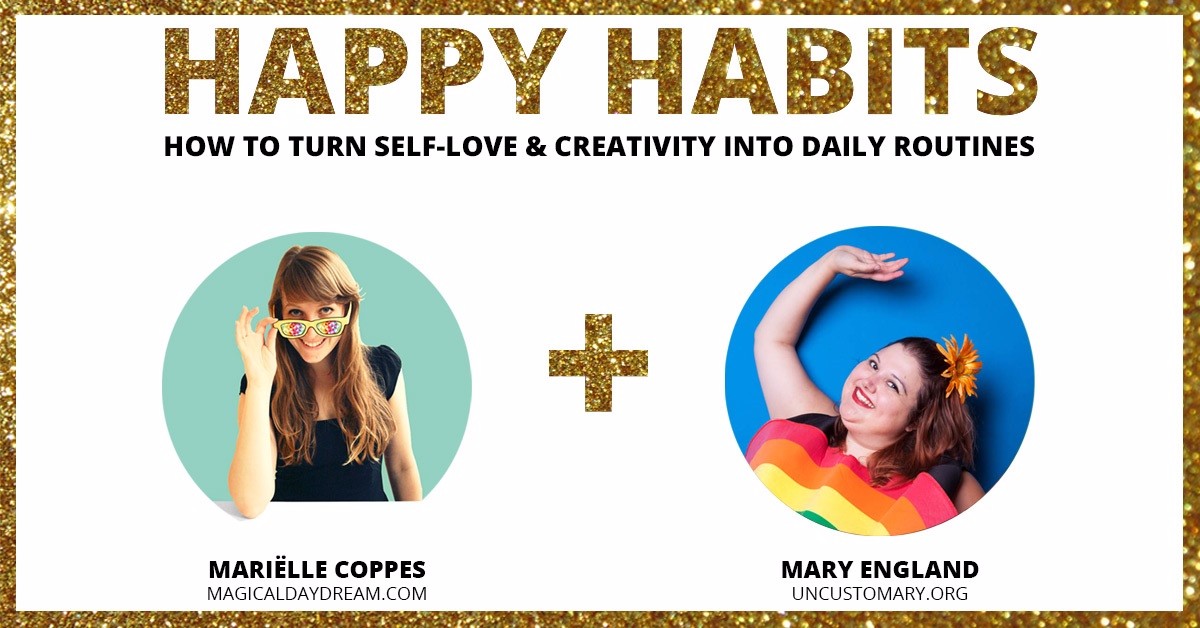 During this masterclass, you will learn:
What a habit is

How to make something into a habit

How to choose the best moment for any daily practice

The importance of self-care

Types of creative behavior

Examples of self-care and creative habits

Plus a live recording of a Q&A with real students like you asking questions about these specific topics! And get a printable worksheet to fill out and follow along with!
Your Instructor
For two-thirds of my life, I've suffered from mental illnesses like Obsessive Compulsive Disorder, Tourette's Syndrome, and Depression. I fought with symptoms that caused other issues like incredibly low self-esteem and self-mutilation. I lived in a very dark place for a long time, but made it through to the other side where I landed on a pile of glitter.

Since then, I've realized how wonderful life is, even when it's hard. I've learned how to embrace who I am, whether that person is grumpy, overweight, or down-right strange. I've figured out how to love myself unconditionally, even on the toughest days, and that makes everything in life much more beautiful.
I'm an expert on self loathing and self love, and I'm here to help you quit the former and fall head first into the latter. I believe my struggle with mental illness and past self hate makes me more eligible to teach you about self love and the path to happiness because I'm not a self-proclaimed guru who can't relate to your feelings of despair. I know what both sides are like and I genuinely want to help you.
Course Curriculum
Happy Habits
Available in days
days after you enroll